Accounting and tax settlement services
We provide accounting and tax settlement services for:
sole proprietorships
partnerships
general partnership
LL companies
limited partnerships
limited joint-stock partnerships
limited liability companies
joint stock companies
foundations
We maintain for the foregoing entities:
revenue and expense ledgers ( KPiR)
account books
VAT registers
settlement of social insurance contributions (ZUS)
preparation of PIT & CIT tax return forms
payroll services
representation of the entity before revenue offices ("Urząd Skarbowy") and Social Insurance Institution ("ZUS")
On-line accounting is the option using which you have everything ready without leaving home.
There are three forms of accounting services available at the market. What are the difference among them?  
– self-accounting – all accounting operations are made by the entity itself and on its sole liability using PC software. This service usually requires the party to up-date continuously the knowledge of tax and accounting regulations.
– on-line accounting – it is the accounting service using advanced on-line methods of document transfer. Thanks to this service, you save the time needed to deliver records to the accounting company, and you up-load these documents on-line using available software tool. The only thing you have to do is printing the results provided and keeping the records as required.
– "conventional" accounting – comprising full scope of accounting services along with record compilation and keeping, and representation of the Customer before the Revenue Office ("Urząd Skarbowy"). The role of the Customer is limited to delivery of the accounting records to our office (either personally or by mail or, optionally, our messenger will collect them from the Customer).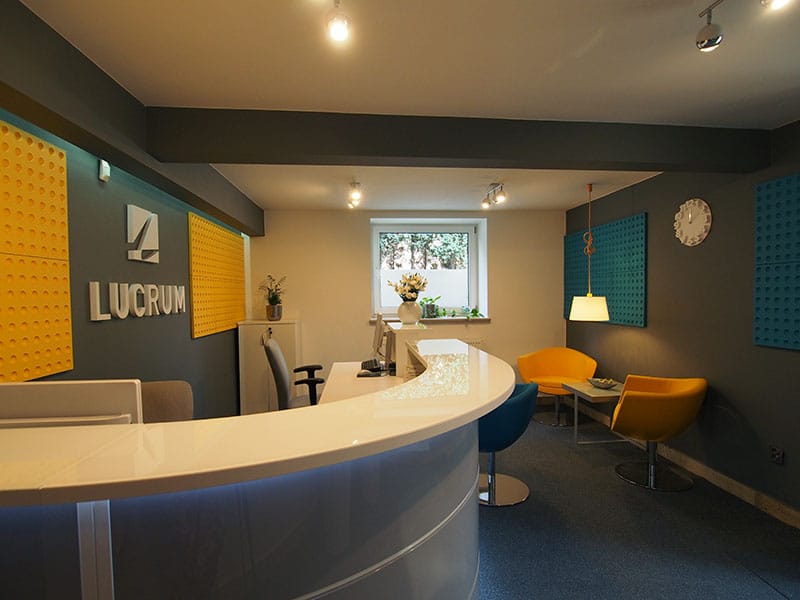 COMPARE CONVENTIONAL ACCOUNTING WITH ON-LINE ACCOUNTING
Accounting

On-line accounting

Basic services

Revenue and expense ledgers
Register of revenue without deductible costs
Input and output VAT register
Settlement of intra-Community supply and intra-Community acquisition deals
Settlement of goods import & export
Calculation of tax liabilities for income tax ("PIT") and VAT
Preparation and delivery of VAT EU information
Submission of e-tax return forms
Annual tax return forms
Calculation of contributions payable to Social Insurance Institution ("ZUS")
Submission of social insurance forms to ZUS
Full liability for the services rendered
Keeping the records in Lucrum
The Customer brings documents to our office
We collect documents from the Customer
option
On-line transfer of documents is possible
Representation before Revenue Office ("Urząd Skarbowy")

HR and payroll services

Sign-in and -out of employees in ZUS
Settlement of civil law contracts
Payroll preparation
PIT 4R preparation
PIT 11 preparation
HR services
Support for natural persons:
preparation of annual tar return forms
Settlement of taxes levied on inheritance and donations
Settlement of taxes levied on real estate sales
Others
Support for companies:
taxation optimizing
Tax consulting services
applications for individual construing of tax issues to the Minister of Finance
accounting services
We are fully liable (including financial liability) for all services rendered and hold third party liability insurance with coverage considerably exceeding the statutory requirements. Our insurer is PZU.